At Gehrig® we understand technical ceramics; to us, the specification and design of specialized ceramic bearings and associated components is second nature. Early collaboration between specifier and bearing designer is crucial to the success of any project. Our team can utilize the specific strengths of ceramic to create an ideal bearing for any requirements - however challenging it may appear.
Metals and ceramics differ in many respects. Technical ceramics have their own characteristics and properties. Intrinsically, ceramic offers less friction than metal but stretch friction should be avoided, because the pressure resistance of technical ceramics in comparison to tension is considerably higher. Friction peaks and material accumulations should also be avoided. Load spikes applied to the ceramic component must be avoided with soft transitions at stages and chamfers on the edges. Sharp edges, small radii, rebates and holes should be avoided. When in contact with other components a large contact surface is required (surface contact instead of point contact). A simple component geometry without corners and edges also reduces production costs. Complex components should be designed with simple, stable geometries.
The most important rules are:
avoid rebates, sharp corners and edges
design in large support and contact surface areas
avoid long, thin and odd geometries as well as avoiding any tensile stress
plan bore holes not too big and ensure holes pitch not too small
prefer modular design and pressure friction rather than point friction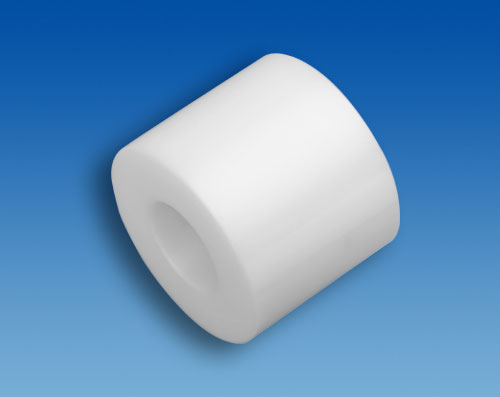 Ceramic sleeve bearing
Gehrig® Ceramic sleeve bearing made of Zirconia ZrO2 ceramic according to DIN 4379 (1850-1) based on an easy but very stable geometry and construction. To prevent disruption on edges are beveled (0,1 x 45°). The material construction (thickness) stand high dynamic and static loads.