Non-standard ceramic pipes, bushes and discs can be used for many applications in many industrial sectors and are custom-manufactured. Ceramic bushings perform well in insulation, dry-running and abrasion. Ceramic discs do not corrode and keep their shape over a very long period, functioning as separator plates and sealing plates. Ceramic tubes can transport liquid media at very high temperatures.
Not everything everything is possible when custom-designing ceramic components but you can take advantage of our extensive experience in design and check first on the feasibility of your ideas by contacting us. Please note that production of non-standard ceramic components in small quantities may incur setup and/or tooling costs.

We provide Ceramic discs made of Technical Ceramicon on request according to technical description, drawing or on exact details.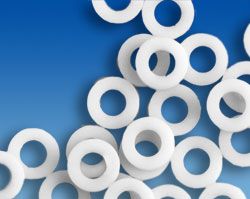 CD CZ 2x4x1,6mm
Gehrig® Ceramic disks (ceramic flat washer, ceramic thrust washer) made of technical ceramic. Disc-shaped components made of high-strength silicon nitride Si3N4-ceramics, very hard silicon carbide SiC ceramics and tribologically good, inexpensive ZrO2 zirconium oxide ceramic. Zirconium oxide washers are non-magnetic, electrically insulating and good composite component well suited to steel.